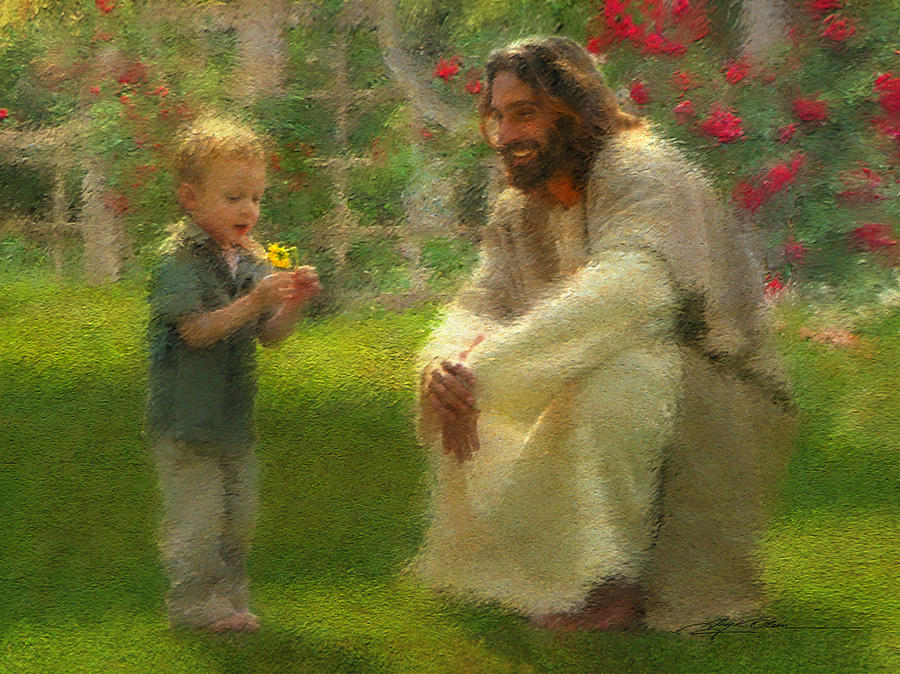 Featured Artist Spotlight: Greg Olsen
Afternoon loves!
Little late this time around – forgive me! But for the month of April, I wanted to feature one of my favorite painters – Greg Olsen, for the month's Featured Artist Spotlight, a painter known around the world for his beautiful depictions of Jesus Christ as well as landscapes of America.
Born in Idaho Falls in 1958, Olsen was the oldest of 5 children and had a love for art at a very early age. Around the 4th and 5th grade, Greg's mother recalls him asking for a John Nagey art set for Christmas which detailed various methods of using shading, color, and perspective to an artist's advantage. He continued to show a strong interest as he grew and in high school, Olsen met an art teacher, Bob Whitney, whose encouragement capitulated Greg's education in art and desire to pursue art into motion. He attended Utah State University to study art, after which, Greg worked as an in-house illustrator in Salt Lake City. He worked on a variety of projects from diagrams and murals to copy and paste imagery, but he soon decided to begin painting full time at the encouragement of a friend. His first show just barely covered the cost of the refreshments and invitations. However, it was what started the income of many future artwork requests.
Much of Greg's paintings fall into a few particular categories including Christian themes, Children and Family, Landscapes, and America and, as noted above, many of his works focus on Jesus Christ. The beauty and majesty of these paintings show an intrinsically stunning side of both the world as well as the Savior of the world in which his kindness, gentleness, patience, and giving nature can all be seen on a personal level.
Greg has said about his work, "I appreciate the beauty of art and the way it makes me feel… I believe that art has the potential to heal our souls, inspire our hearts and awaken our minds. I hope these images will bring this experience to all who view them."
Check out some of Greg's paintings below!
Greg Olsen Paintings

Visit Greg's Shop and Website Here!

Now the father of six and a grandfather to thirty-six, Greg paints in his studio, which is close by to his home and has been described by Deseret Books as having a "luminous" and "delicate" style to his portraits. But why in particular did I pick Greg and his work to focus on today? Many note that Greg's artwork seems to have a gift for touching the souls of those who see it, which seems to be a particular intent for Greg as he creates his paintings, using his art as a means for connecting people and letting them know that they have value in the eyes of God. In that way, Greg goes out of his way to use his painting skills as a method to give messages of hope to others in need.
Knowing his son Nate's friend struggled with depression, Greg painted "Lost and Found" in which he used Nate's friend as a model. In the painting, a young teenage boy in modern attire sits on a park bench with Christ, who looks at him with love and care (see below). Nate's friend sadly took his own life 10 years after the completion of the painting, but the image and many of Greg's other pieces of art in which the Savior sits with people of all ages, races, and situations, stand as a solemn testament of Christ's love for all out there, regardless of their struggles, shortcomings, and circumstances. The beautiful earth, the nature of life, and the emotions felt are all aspects of Greg's paintings that remind those who see them that they have value and that there are important things in their lives, such as family, friends, and being there for those in need.
"From an early age, I have always been fascinated by paintings that create mood, emotion, and atmosphere; especially those paintings that lift me and transport me to some far off place. These are the elements I strive to create in my paintings. My paintings in many ways record what is most important to me: my feelings and experiences with family and friends along with the spiritual aspects of my life. My hope is that in these images you will find something familiar, something which will resonate and remind you of what is important in your own life," Greg has said.
And how glorious it can be to be whisked away to the majestic scenes of the beautiful world and the Savior of us all, who despite being above it all, came down and performed the Atonement for all of us – because He loves us! For Greg's determination to impart feelings of awe and love through his works, he's landed a special spot in this list of Featured Artists. Till next time, I hope these images will do as Greg has hoped for and will help you through whatever life is throwing at you.
Much love,
Skywing
Creator of SkywingKnights
Related posts