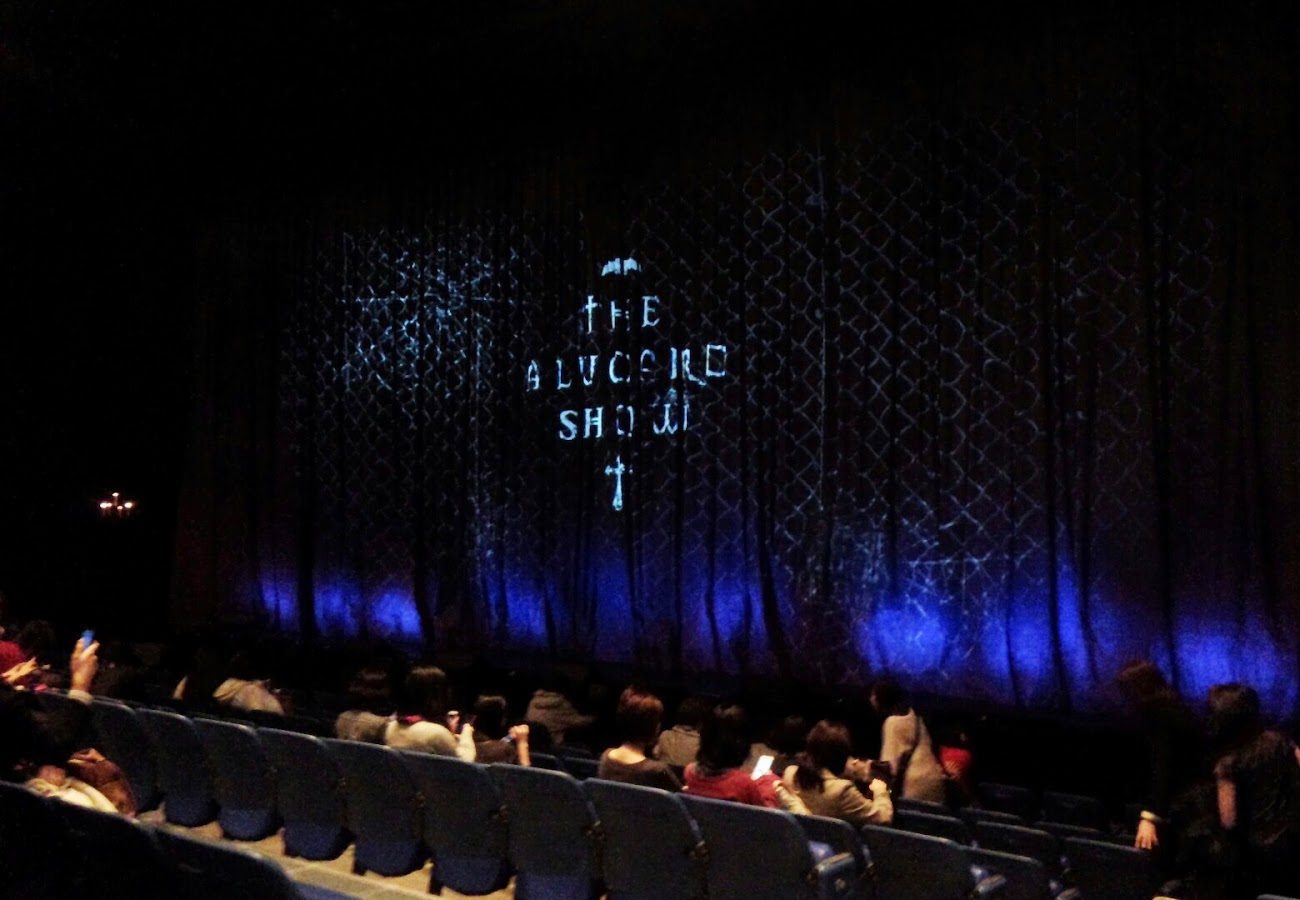 Review: The Alucard Show
Hello fans of Japanese entertainment and the like,
I bring you a special review today. There's something strangely exciting about seeing a musical not performed on Broadway. Perhaps it's not knowing exactly what you're getting yourself into. Or perhaps it's knowing that for a musical not from Broadway to be selling tickets, it has to genuinely be good. Whatever the case, I really enjoy musicals that hit the stages that are NOT from Broadway (even though I do enjoy Broadway). I bring this up today because I wanted to share my love for one of these such shows and my experience seeing it live.
Back in 2014, I got to see a gem of a musical, "The Alucard Show" playing the Harajuku/Shibuya area of Tokyo at the AiiA Theater right next to Yoyogi Park.  I had been getting hyped up to see the musical as it was an encore performance from previous years as it had gotten a bit of a cult following, appropriately called "Alucardnia". Furthermore, I was excited to see many of the performers that I had seen previously in other projects who continuously excel in the performing arts.
"The Alucard Show", as the name suggests, is a gothic vampire tale set in the near future where seven vampires have become a famous hip/hop dance group known as Alucard, gaining a following through the means of their secret vampiric nature, charisma and charm. The group consists of the members: Carmilla (Takuya Uehara), Orloc (Soichi Hirama), Gillede (Taito Hashimoto), Saint Germain (Mao Kato), Bat (Ginji Yamashita), Popsy (Lui Yokoo), and their leader, Vlad (Yuya Matsushita).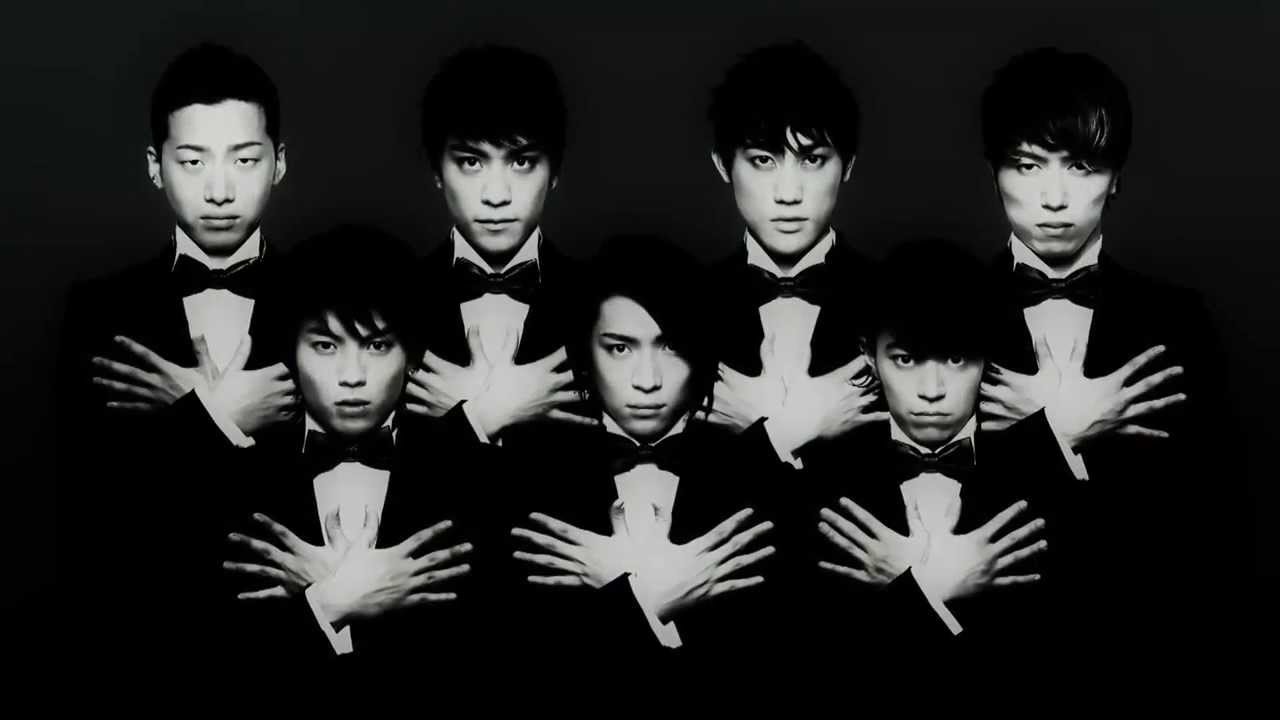 That's about all I knew going into the AiiA theater prior to the show. So no, I didn't know what I was really getting myself into. Upon arriving at the theater itself, I found it to be an oddly appropriate location for the show, built with an unusual blend of modern styles that left the place feeling open, but closed off at the same time. In a sense, it felt secretive though you wouldn't expect it to be. Meanwhile, unlike many theaters, once inside I found the seats inside seemingly out of place for a performing arts theater, reminding me of seating at a baseball stadium rather than a fine arts venue. A friend told me after the musical that this was due to a former musical that was very athletic in nature.  But still at the time I thought… just what was I about to see? Why would they have left it? What tone was this musical going for?
I remember thinking about all of this prior to the start of the show, at which I found myself immediately intrigued. After a brief prologue, the story begins with Maria (played by Sylvia Grab), a washed out singer searching for the perfect come back. Convinced that the problem can't possibly be her, she has her assistant, Walter (Takeshi Kongochi) sent off to find her new backup dancers. During a dinner at a Chinese restaurant in which Walter's new find, a group of 6 mysterious young men, drop in unexpectedly, Maria is eventually convinced through their dancing skills that they "will be good enough".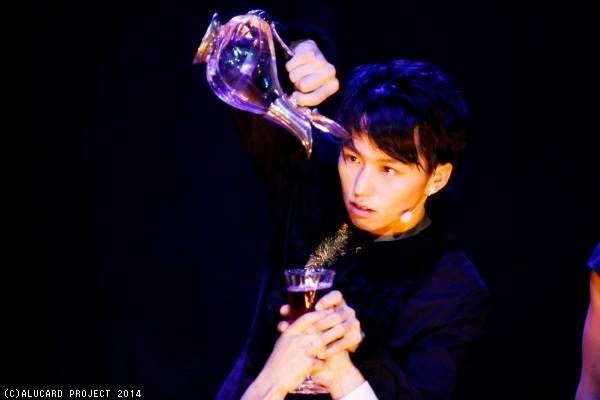 Leaping ahead to a new concert tour series and the rising stardom of Maria, during a brief costume change for the singer, a mysterious figure shows up on the scene. Sara (Yasuko Mitsuura), a fangirl working the concert, tries to chase the stranger out. The moment she takes off his sunglasses and reveals his identity, Alucard's music finally begins, as Vlad, the stranger, and the rest of Alucard steal the show right out from underneath Maria. Upon Alucard's rise to stardom, a mysterious number of deaths pile up and Maria begins to go on a downward spiral of grief, depression, and vengeance. As the number of deaths increases, the truth of Vlad, and the rest of Alucard's true nature begins to unfold, even as Walter, Sara, and Maria attempt to convince themselves of the possibility that the horrifically impossible is in fact, possible.
While the plot is and of itself rather simple, the elements of how the story is told in a less than classic sense for a musical is perhaps what sets the story apart the most. Focusing less on singing and more on choreographed dances incorporating elements of hip hop and street performance, Alucard has a very raw essence to it, that strangely heats up especially during the meetings between Maria and Vlad and really, any of the members of Alucard. With themes of addiction, withdrawal, and death by even obsession, "The Alucard Show" ironically entices audiences' intrigue, as though luring in the crowd as the plot thickens. Also enjoyable was the use of staging to illicit feelings from or incite vibes into the audience, ranging from placements of actors on stage to the number of times performers made their way into the audience (a nice treat for fans, I might add).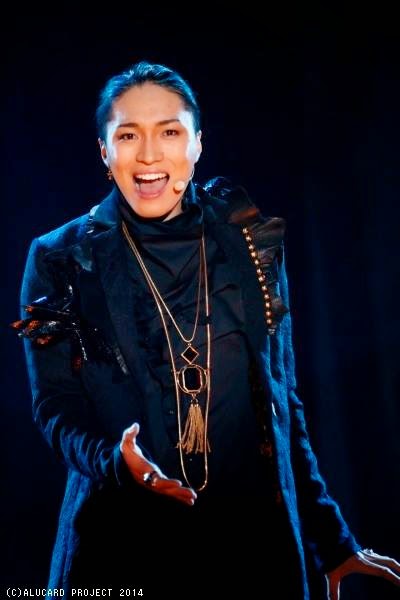 While strong praise was deserving to all involved, I personally felt that Sylvia Grab in particular was absolutely stunning in her role of Maria along with Yuya Matsushita as Vlad. As a follower of Matsushita's career for years, it wasn't a surprise to me that he flawlessly portrayed Vlad to such perfection. As a character that primarily stuck to the 'background' with a quiet, but commanding presence, it was astounding how much more attention grabbing he became with the few, but powerful pieces of dialogue that he did provide, even while his actions often spook louder than words during the majority of the show. For Grab to be able to follow up on such a performance and play off of it so effectively as a desperate, despairing singer, one could only suppose "brilliance" to be the most accurate word to describe her capabilities. In the rare, but truly captivating moments that they shared on stage together, emotions ran hot, tense, and anticipatory of what would happen next. In short, who would "fold" in the end?
In short, with traditional stage magic, new wave music, gripping acting, and vibrantly energized dances, "The Alucard Show" dazzled audiences. It remains one of my favorites and was made available for purchase on DVD as of Dec. 31st 2014. So if you get the chance, go find it and watch it, especially as the Halloween season approaches. It's sure to draw you in with its seductive nature, but be careful so as to be able to also get yourself out. 😉
Till next time,
~Skywing
Creator of SkywingKnights
Related posts